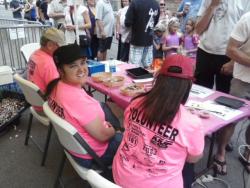 "Transition Skills Increase the Opportunity for a Successful Future"
Pathways to Independence is a special education program offered by the Durango School District 9-R for students 18-21 years of age who need to continue to develop independent life skills. The program is located in the Commons Building in downtown Durango, which provides a community experience for our students.
The program offers both on-site education and opportunities in the community where students learn skills in the area of employment, post-secondary training and independent living. The goal of the program is to increase independence at an individual level, so that the young adults we work with become active members of their community. The program has developed strong partnership with community employers and service agencies, to increase opportunities available to our students.
Pathways to Independence Vision Statement
Young adults with disabilities will develop the necessary skills to prepare themselves for a successful future.

Pathways to Independence Mission Statement

To connect young adults with disabilities and their families to community resources, empowering them and strengthening their advocacy skills in order to navigate their life plan.

What is the Pathways to Independence Program?
a community based program for young adults 18 to 21 years of age.
a program which provides group and individual community activities.
a program which provides opportunity to gain employment skills.
a program which provides the opportunity to learn functional skills needed for everyday living.
a program which offers leisure activities, individual and group.
a program where young adults develop independent living skills.
a program which offers individualized learning activities based on student needs.
a program which offers young adults work-based learning training opportunities in the community.


Student Profile
Special Education students between the ages of 18 – 21 who need additional training following four years of high school to prepare for a successful future are eligible to be enrolled in the transition program.
All students must have an Individual Education Plan (IEP).
All students must complete all of the high school graduation requirements before enrolling in the Pathways program
A student's IEP team must make a recommendation for enrollment prior to the end of the fourth year with the approval of the Director of Special Education.


Common Grounds Cafe
Through partnership with the Durango Public Library, Durango School District 9-R, and local businesses, Pathways to Independence students gain valuable work experience at the Common Grounds Cafe, which affords them the opportunity to become prepared to compete in a competitive job market. See more about the Common Grounds Cafe
here
.

Looking for more resources for your student?
Pathways in the news
Contact Information

Andrea Boswell, Program Coordinator, (480)363-3144
Want to help with Pathways to Independence?

Pathways to Independence is expanding our classroom into the great outdoors. Our special education program helps students take risks and step outside of their comfort zone. We aim to expand the potential of students of all abilities through meaningful and educational outdoor experiences. We are currently seeking donations of outdoor equipment such as tents, head lamps, camping stoves, life jackets and camping gear in order for our students to be able to participate in adaptive outdoor education experiences.To learn more or to donate, visit our donor page here and/or contact Devon Parson.

Thank you

Pathways to Independence is grateful to the local businesses and non-profits that support our students by providing opportunities to gain meaningful vocational experiences. A special thanks to Bread, Steaming Bean, Denny's, Pet Haus, Manna Soup Kitchen, The Humane Society, Park Elementary Library, Riverview Elementary Library, Rivendell Early Education Center, Tri-County Head Start, and the Durango Public Library. Thank you for supporting an all inclusive community in Durango!